Teambuilding through play with Acrobranch
How moments of purposeful play can strengthen your team.
I was recently watching a netball match at school and memories flooded back to when I used to be on a netball field. I was fortunate to be part of a team that just clicked and hardly ever lost a game. Watching this team play, I wondered how we created such an amazing bond as a team, as this "team" I was watching just could not let the game flow. Then it struck me, our netball coach took us as a team, at the ripe young age of 12, on a fun team building activity. It was an outdoor, play and picnic activity, where we had to work together to reach the end goal. This was silly fun to a 12 year old but looking back now it shaped all the important connections, well-being, and trust in our team. Behind every successful team, is a happy team!
Acrobranch had recently invited us to be adventurous at one of their courses and now I see how this venue is just perfect for some safe and purposeful teambuilding play.
What do Acrobranch have to offer for your team?
Kids between the ages of 3 to 6 can let loose on the yellow Acro-twigs course. The teams will be shown the ropes by a hands on instructor and shown how to clip and unclip the safety harness designed to keep the little ones safe as they take on the challenge of the 11 obstacles including 3 zip lines. The course was then dutifully monitored by the instructor.
Their bigger courses are structured for different fitness levels. Kids can also participate in these courses (height and age restrictions apply). There is a green beginners course The Monkey Moves, the blue medium course, the Swinging Tarzan, and the red expert course for the High Flying.
Their beginners Course, The Monkey Moves course, gradually increases in height.
Their moderate course, the Swinging Tarzan, consists of zip lines, bridges, monkey bridges, Tarzan jumps and many others activities to challenge everyone . Then, for the more daring, why not attempt the High Flying course. Each individual is secured with a harness and the friendly guides are there to walk you and your team through the process, ensuring your teams safety at all times.
It's a unique and inexpensive outdoor teambuilding idea
Acrobranch offers a unique outdoor teambuilding idea, allowing teams to practise purposeful play. Acrobranch are passionate about helping teams build and deliver real results. Each course is specifically designed to offer all visitors an exhilarating, yet challenging outdoor experience. Breathe in the fresh forest air as you make your way from tree to tree via cargo nets, zip lines, barrels, rope bridges, balancing beams and more. Slide, balance, jump, crawl, dash, swing or stroll through the courses that will test your teams physical ability, brainpower and balancing skills. Their courses also provide a wonderful way to get those muscles and minds working in a beautiful and peaceful outdoor setting.
Walk away from your team building with a spring in your step and a fire in your heart, ready to take on the challenges ahead with your brave tribe. Acrobranch' s team building activities are fun, exciting and encourage teammates to work more efficiently together.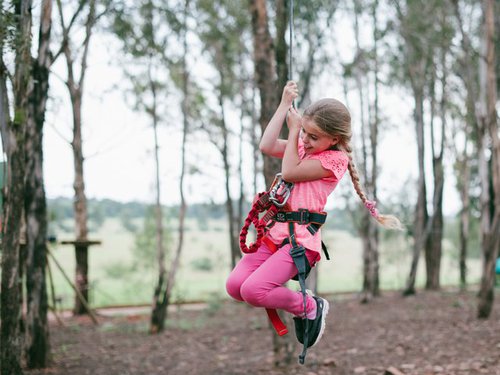 Teambuilding packages allowing play and picnic!
Acrobranch teambuilding packages include a treetop adventure with options of a dedicated host who will capture your event on camera, refreshing drinks, catering and team development games. The Acrobranch team has gained tremendous experience in organising team buildings for many school sports. They believe successful team building delivery starts with the team who deliver. Their instructors are carefully chosen, highly skilled and meticulously trained. They are passionate about their work, which manifests itself through this dynamic teambuilding. They strive to accommodate unique requests and will do everything in their power to ensure your sports team building is a success and results in increased team cohesion and productivity.

This high energy team building activity will make sure your team is more open and relaxed with each other in anticipation of a purposeful play and picnic experience. It is the perfect activity to create unity and form stronger team bonds. Whether you are a coach trying to get your team to win or a teammate trying to build relationships within your team, I would definitely give Acrobranch a call. Moments of purposeful play can establish a foundation on which to build and develop passion, motivation and healthy relationships – all of which are essential for building a team who have fun while winning!