Restaurants In Cape Town Where Kids Eat Free
Restaurants In Cape Town Where Kids Eat Free
Restaurants usually run a number of specials, but it is quite difficult to find places that will give anything away for free nowadays. I have collected a few restaurants that are generous enough to offer specials that include kids eat for free. Many of these restaurants also provide kids menus, play areas as well as being a great place to enjoy a kid's birthday party.
For restaurants in Johannesburg, read our Kids Eat Free guide.
Olio Pizza, Cape Town
Here you will enjoy much loved and extraordinary family pizzas with a thin crust and cooked in a wood-burning oven. They also make a range of home-made pasta. The kids will not be ignored because on a Tuesday evening if both of parents order a large pizza then the kids can enjoy a small pizza completely free.  
Where: Sherwood Centre, Bergvliet
Contact details: 021 712-1497
Web site: www.oliopizza.co.za
Da Vinci's, Harfield Village, Cape Town
Da Vinci's not only offer delicious pizzas but you can also enjoy a choice of exciting burgers made of chicken, beef, ostrich or even vegetarian. You can also enjoy sirloin steak or spare ribs followed by mouth- watering desserts. Every Monday when the parent orders a main meal then the child receives a pizza with two toppings free, taken from the kids menu.  The Da Vinci branch in Kloof Street does not have the same offer or special as the one in Harfield, but they do offer a free kids ice-cream if you order from the kids menu.
Where: Harfield Village Cape Town
Contact details: 021 683 5453
Web site: www.davincis.co.za
Franky's Diner, Sea Point, Kid's eat free
Image provided with permission from Fraky's Diner
This is where you can eat an original meal from the 50's era. They serve hamburgers, fries, milkshakes and mouth-watering desserts. Even the music that plays while you eat dates back to the 50's. The kids are very welcome and can eat a free meal with every regular meal ordered by an adult. This special is available from Mondays to Thursdays from 12:00 noon to 20:00. The diner is also a great kid's party venue.
 Where: 303 Main Road, Sea Point
Contact details: 021 433 0445
Web site: www.frankysdiner.co.za
John Dory, Cape Town
Sushi and fish at John Dory's is delicious and they also serve vegetarian dishes. The kids love the indoor play area. The special at John Dory's, whenever an adult orders a meal from the main menu then the kids eat free from the kids menu. This special is only available on Sundays.
Where: Shop 483, Canal Walk Shopping Centre
Contact details:  021 551 6443  
Web site:  www.johndorys.co.za
Glengarry Ocean Basket, Brackenfell, Cape Town
The Ocean Basket at Glengarry shopping centre offers a family friendly dining experience. For the little ones they offer high chairs to sit in as well as a yummy kids menu. The kids won't be bored as there is an indoor play area. The kids can also get some colouring in pages to keep them busy. Click on the link, print out the advert and take it with you the next time you visit and receive a complimentary free kid's meal.
Where: Restaurant 2, Glengarry Shopping Centre, De Bron Rd, Vredekloof Brackenfell
Contact details: 021 981 8948
Website: https://thingstodowithkids.co.za/child-friendly/ocean-basket-glengarry
The Bay Sports Bar and Restaurant, False Bay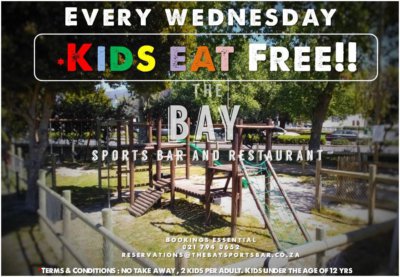 Image provided with permission from The Bay Sports Bar and Restaurant
Every Wednesday at The Bay Sports Bar and Restaurant, the kids eat free. The special only applies to sit down meals, maximum of two children per adult and the kids should be under the age of twelve years old. You can choose a yummy meal from the kiddie's special menu. The restaurant offers great food but is also a popular venue to host all kind of events and functions.
Where: False Bay Rugby Football Club, Constantia Main Road, Cape Town.
Contact details: 021 794 0652
Website: www.thebaysportsbar.co.za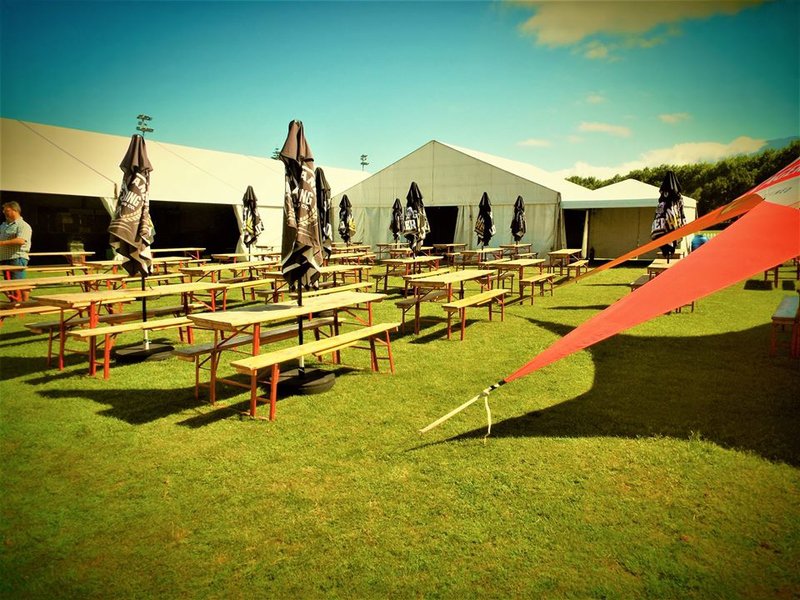 Enjoy your meal!