Indoor play ideas for Dads, Mommies and nannies- BabyBoxSwop
Now who wouldn't get exited if a large crate full of toys arrives at your doorstep at 8 in the morning? Christmas came early this year as I received my BabyBoxSwop parcel for review in May. I have seen monthly subscription services and the quality they withhold often left me speechless, and not in the good sense. So great was my surprise when I opened the box and started unpacking -  BabyBoxSwop had a wide variety of exceptional quality toys from local providers. Jeah!
When I started on this journey of motherhood I often found myself at a lack of creativity. I had no background or previous experience with babies and had no idea what their abilities were. So it left me experimenting (which was fun) and often frustrated as I wasn't sure how to entertain my little one and even more so, myself. I bought an age appropriate development activity book and the theory was great but I often got bored with reading or lack of "general household equipment" that wasn't to generally available in my house. I joined a group class but found my baby's sleep times weren't set and so we missed out on a lot of paid-for classes either because I didn't want to wake my sleeping baby or because she wasn't in the right state of mind. I came up with the solution that I must plan ahead before I go to bed in order to have a more fun day with my little one, but it was hard work, as it did not come naturally to me and meant I had to read up a lot!
With my second one there was just no time between work, running a household and raising kids. The book I bought gathered dust on the shelf and so my newborn was left to learn from random life experiences and interaction with his sibling. That was until BabyBoxSwop arrived at my door.
What I loved about it was that all the research has already been done for me. I like my daily planners and thus their monthly schedule works well, with one session per day. This does not mean you only have to do it once per day but as babies' concentration span is only so long, it is best you stick to one at a time. In my experience the best time for play is in the calm alert phase when they are content and not hungry. Also when they just woke up, as the need to move is a little less then and you don't find yourself running after your little one trying to get him to put a piece of puzzle in its place.
The baby stage is often the toughest stage for daddies also as they find it hard to connect with their little ones since they are often not involved with bonding experiences like breastfeeding and baby can't play catch or kick a ball just yet. Activities like the BabyBoxSwop give Dads the tools on how to play productively with little ones; and the sense of accomplishment when they achieve even the smallest goals are really rewarding for both Daddy and baby.
BabyBoxSwop is practical, it avoids pile ups as toys become less age appropriate and clutter our houses. The quality is high, the research is great and it comes at the least amount of effort for the user. Boredom and repetition in my opinion becomes a bigger problem for parents than for little ones, so it is great to see that the same developmental goals can be achieved through a variety of activities- keeping parents stimulated.
I believe their biggest challenge will be to keep it hygienic for the next user, though they go through exceptional effort to ensure toys are handled correct and stored during non stimulation times. I would love to see a post under comments how they go about keeping toys hygienic- as this could be a whole post on its own.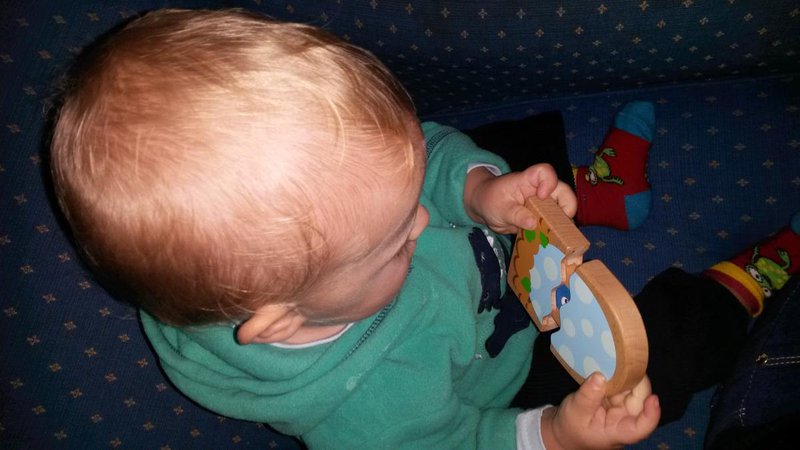 The low down:
The boxes are delivered monthly to your door and collected/replaced with a new crate filled with goodies once you're finished. Rates include courier services.
It contains all the toys you need for the month as well a folder with the detailed age appropriate programme.
Ours was age 7-12 months, 20 days activities per month- so you don't feel that it becomes another 24/7 chore.
Each activity is clearly marked out with what toys you'll need, instructions and details of what new skills your baby will be learning.
The programme focuses on seven steps to encourage learning through play, including repetition, questioning, praise and nurturing.
They also include disinfectant spray and a wiping cloth to give the toys a clean before and after using with your child.
Summary:
I loved the products and service. BabyBoxSwop subscription rates compares well with other products and services in the market (I have compared it to three subscription services and three group class rates). You are thinking about the environment –by making use of the swop principle- sharing is caring. It's ideal for busy households and to train nannies, daddies, grannies and mommies. It's more affordable than joining a group class and is time and cost effective, plus you are supporting local toy suppliers. If your kid grew fond of one specific toy you can always order it from their website www.babyboxswop.com Also go there to get the fine print and to order it- perhaps in time for Fathers day. 
For more fun go to our home page.
Let us know under comments what you thought about your children's stimulation subscription service!