Fun Family Picnic at Warwick
Let me start this post by saying how much my husband and I love the Cape, specifically the Winelands. It is our all-time favourite local holiday destination. So, after we had survived the fourth trimester and everything at home with our little 4-month-old seemed easier and manageable, I suggested that we go on our first family holiday together and I, of course, suggested the Winelands as our holiday destination. 
My husband loved the idea and a week later we were settled into our accommodation in the beautiful Franschhoek. Now, whenever we used to visit the Winelands before, our itinerary was always clear – visit as many wine farms as possible. This is possibly my favourite past time: not only do you get to soak up the sunshine and taste delicious wines, you get to relax in the most beautiful scenery. It's wonderful. 
And yet, when we arrived in Franschhoek, we soon realised that driving from wine farm to wine farm, sipping yummy wines, is not the most child-friendly of activities. We were stumped – what were we going to do now? We were in the Winelands after all. So, my best friend was consulted and it suggested we have a picnic at Warwick Wine Estate. 'What a great idea', I thought and promptly phoned Warwick to make a booking.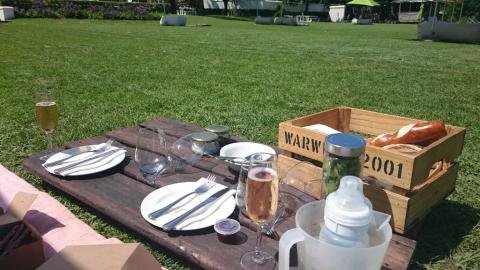 Warwick is a beautiful wine estate and once we had parked the car, we were immediately greeted by the fresh sounds and smells of a farm. Cal was placed in his pram and off we went to the picnic area which was a less daunting task than I had anticipated seeing as the farm is pram friendly. The staff who greeted us were very professional and we were promptly shown to our spot. Now, the spot was not just an empty spot on the grass, it was a very nicely arranged picnic spot, with a blanket, a makeshift pallet table for cutlery, crockery and glasses. An umbrella was set up already and to top it all off, there was a large cushion we could lean our back against. In terms of food, there was a menu selection of picnic baskets and we could order wine off a wine list. 
What an amazing experience. Not only did we not have to worry about packing in blankets, food and drinks which, after packing in everything you could possibly need for your child is quite a mammoth task; we could enjoy fine wine and restaurant quality food while lounging on a blanket in the outdoors, enjoying the gorgeous view, while spending quality time with our son.  
This post was written by Alexa Gerrard
For more Family Friendly things to do in Cape Town go to http://www.thingstodowithkids.co.za/cape-town  , make use of the search options on our home page or download our android mobile app "With Kids".