Excursions: Butterfly World
I remember the first time I visited Butterfly World. I used to drive past them often as a student , but I could never really convince myself to go in. After all, all I expected were Butterflies pinned to boards and perhaps learning about their metamorphosis. So, great was my surprise when we finally went in with my little girl, a few years later.
Kids under three could enter for free, so I did not have to risk taking her in, paying and then all she wanted was to get out.  (as many of you would have experienced before with kids) And so we paid for the adults and entered… only to return for about 3 more visits that same year.
Today, as I went through some old pictures on my hard drive I saw the videos from three years ago when we first visited. The weather was overcast and cool- the perfect day to revisit Butterfly World.
The first to greet us were tiny butterflies with see through wings. And then, a tropical forest filled with animals and weird creatures. They had a Khoi pond and little Blue Duiker tiptoeing through this man made forest. Don't rush through- as you may miss them!
A voice behind me said "Hello" and as I turned, a rainbow coloured parrot and his flock of 3 greeted me. Each one showing off their vocabulary. My kids loved that they could talk to them and the parrots actually spoke back.
We got to the "nursery" where you can see real life examples of the different stages of butterfly metamorphoses. It was such a special moment since after waiting for a while, we could see a butterfly take its maiden flight, for only about 6 flaps from where it was "reborn".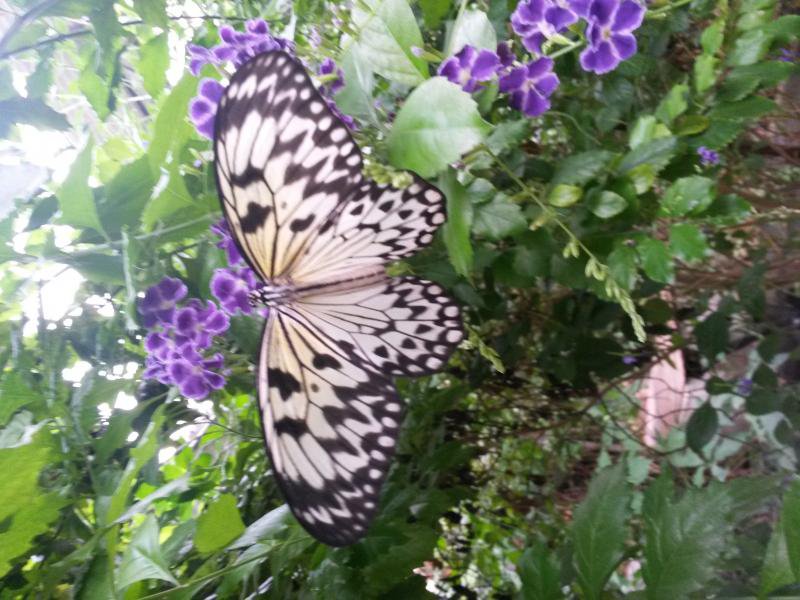 It is amazing to see how many reptiles look like dinosaurs of way back when. There were numerous dragon species and even some tiny hedgehogs hiding in pottery bowls. They also host a variety of snakes and I'm sure older boys will appreciate this more than what we girls did.
We passed the next doorway to the bird and rodent park. My 1 year old loved these tiny creatures and kept saying "got it!" instead of "catch it". ("Het hom,pappa!" - instead of "Vang hom, pappa"- for my Afrikaans readers who may appreciate the context). The birds here are either quite territorial and they may charge at your face giving you a good scare or love you to bits and come sit on your shoulder unexpectedly.
Butterfly world also offers a tiny aquarium and spider viewing. After seeing those monstrosities (tarantulas) and the fox-like bats, I am extremely glad to be living in Cape Town instead of living on a tropical island. Can you imagine a flying fox on the attack? The wingspan on those bats is around 1 meter! Imagine a tarantula on your wall at home or worse, in your collar! Black flying foxes eat pollen and nectar from native eucalyptus, lilypillies, paperbark, and turpentine trees. When native foods are scarce, particularly during drought, th bats may take introduced or commercial fruits, such as mangos and apples.
Having learnt a lot on this adventure and just enjoying creation we left for something to eat. Butterfly world does offer a restaurant but as there is no place to move around for kids in the restaurant area, we decided to head further down the self-named "family thoroughfare" to Klein Joostenberg for an early lunch and picnic.
Have you been to butterfly world before? Let me know in comments! or on facebook- if not, share this post with family and friends for an amazing experience.
Tanya
ps. If you think kids learn a lot from building puzzles, imagine having them build 3d real-life skeletons, with some of the pieces missing or pulverised? This is what Francois Malherbe did and now you can see the "road kill" exhibition at Butterfly world.