Bakers Day Made Easy
Things to do with Kids: Bakers Day
Most pre-schools have adopted a fun new fundraising activity called Baker Baker, Star Baker or Bakers Day where every week one child gets the chance to be the Star Baker and bring treats to 'sell' to the other children. The money collected then goes toward a new project or playground installation for the school.
Bakers Day Ideas for School
Bean loves spending time with me in the kitchen and I have been anxiously awaiting Beanie Bean's turn since he first started pre-school late last year. We bake at least once a week (it has become somewhat of a tradition) but I often end up doing most of the work while Bean nibbles and makes a mess. But seeing as Bakers Day is all about the child being the baker, I decided to focus on easy ideas which he could help with or do mostly by himself.
These treats would also be a great addition to your kids' party packs or as birthday party treats.
Something Fun
Biscuit Men
Every night, before bed, we read a bedtime story and Bean's latest favourite book is 'The Gingerbread Man', which is why we baked biscuit men for his recent turn as Star Baker. I decided to make these men using a simple orange flavoured iced biscuit recipe instead of gingerbread as I wanted to bake something which would appeal to all the kids' taste buds.
Recipe:
Prepare the dough according to the iced biscuit recipe in the link above.
Add the zest of 1 -2 oranges
Bake according to the said recipe
Icing & Decorating:
Sift 2 x cups of icing sugar with the juice of 1 x orange (add a drop of water if needed - it should form a paste)
Once the biscuits have cooled, spread a small amount of icing over each biscuit.
Using various sprinkles and smarties (or raisins, jelly tots, cranberries etc) decorate the biscuits to look like men.
Surprise Stars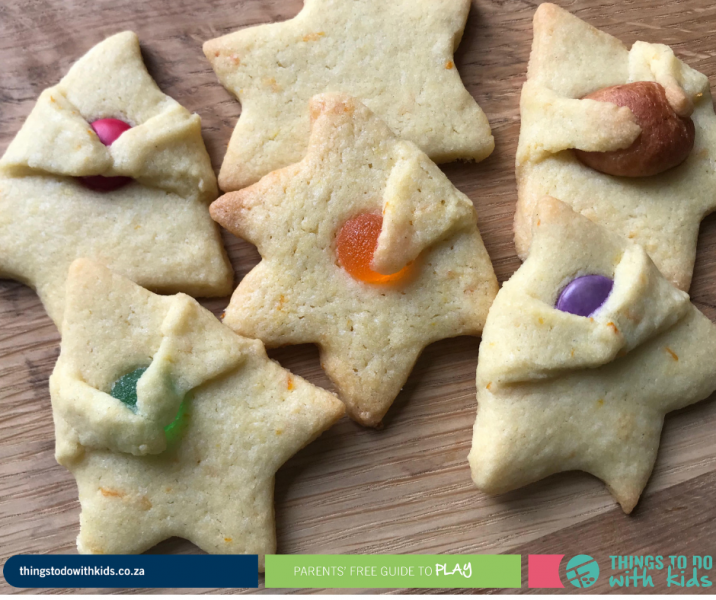 These just add a bit of fun to a normal biscuit - hiding a sweet treat within in the arms of the stars.
Recipe:
Use the same recipe as per the iced biscuits link above and prepare the dough as per the instructions.
Once you have rolled out the dough, press out star shapes and arrange on a prepared baking sheet
Now place a variety of treats (smarties, jelly tots, nuts, raisins, dried fruit, pieces of chocolate, pieces of marzipan or anything your heart desires) in the middle of the star and fold either one or two of the star 'arms' over the treat, pressing down slightly.
Bake according to recipe instructions
Holiday Themed Biscuits
These type of biscuits can be made around certain holidays during the year (should your bakers day fall within these periods). For example, during the festive season, you could bake Christmas trees decorated with smarties as the 'baubles' or easter egg shaped biscuits during Easter etc.
Something Healthy: Frozen Yoghurt Bites
This is something I make at home as a treat for the kids all the time: it is super quick and easy; the kids can do most of the work and it is healthy. The only pre-requisite for this to work is that the school must have a freezer facility available.
This bakers day idea is great for moms avoiding too much sugar:
Ingredients:
2 x punnets of blueberries, strawberries or grapes (mango and banana also work well)
1 x tub of yoghurt (I use the raspberry Ayrshire full cream yoghurt from Woolworths)
A couple of toothpicks
Cupcake cases
Method:
Line a baking sheet with baking paper
Wash the fruit and berries and cut the larger fruit into bite-size pieces
Skewer each piece of fruit with a toothpick, dip it into the yoghurt and place onto the baking sheet
Once all the fruit is dipped, place the baking sheet into the freezer for 2 – 3 hours (or until frozen).
Serve in cupcake cases
Store in an airtight container in the freezer
For a Dairy Free alternative, place equal amounts of coconut cream and dark chocolate (at least 70%) into a pot and cook over a low heat. Once the chocolate has melted into the cream, allow to cool slightly and dip fruit into the chocolate, place onto a lined baking tray and freeze.
Something Free From:  Date and Coconut Balls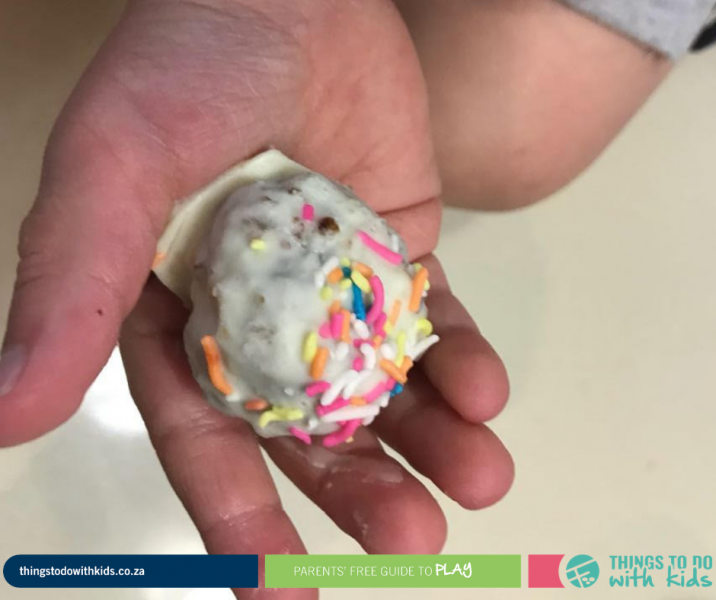 These little balls of yum are gluten free, nut free, can be made sugar and dairy free (if the right coating is used) and they are still really delicious. I make these for myself as an after-dinner-guilt-free-sweet-treat and Bean shovels them into his mouth as if his life depends on it whenever he has the chance.
This is a good alternative for kids who suffer from certain allergies / intolerances / sensitivities:
Ingredients:
250gr pitted dates, chopped
1 ½ cups desiccated coconut
5 tbs coconut oil (melted)
2 tbs coconut milk
Optional
2-4 tbs cocoa / raw cacao (exact quantity depends on how chocolaty you like it – this option works best when rolled in desiccated coconut only)
Coating:
150gr chocolate (white or milk) or
150gr dark chocolate (70% and check ingredients list) for a dairy-free alternative
 Desiccated coconut
Method:
Place all the ingredients into a food processor and blend until smooth (or until you can form little clumps between your fingers)
Roll mixture into equal sized balls (this mixture should make about 20 units)
Place into a fridge or freezer to set
Place a double boiler onto the stove (glass bowl over a pot of boiling water) and melt the chocolate in the glass bowl
Once the date balls have hardened, roll each ball in the chocolate mixture (or simply in some desiccated coconut) and place each ball onto a baking paper lined baking sheet
For some fun, let the kids add some sprinkles
Place the baking sheet into the fridge for 2 – 3 hours until the chocolate has set
Store in an airtight container in the fridge
Something Budget-Friendly: Hidden Treasures Popcorn
Something Indulgent
Chocolate Dipped Strawberries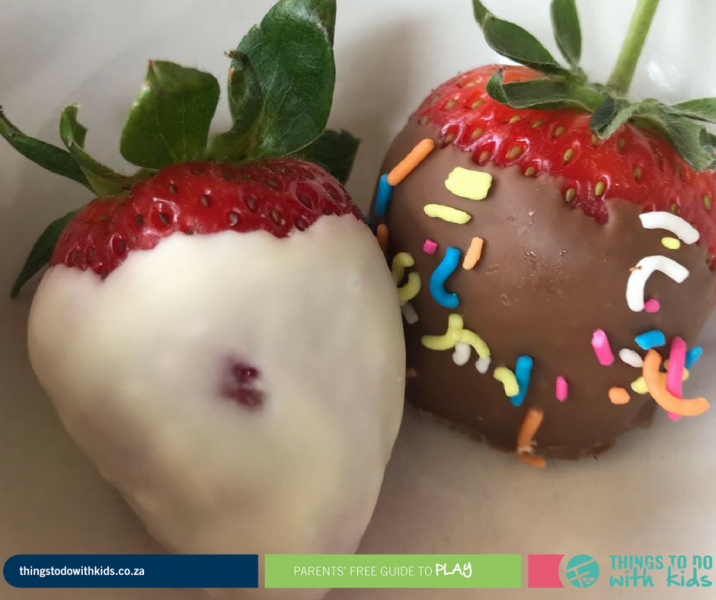 Who doesn't love a chocolate dipped strawberry? This is a definite crowd pleaser and can be customised to avoid any allergens.
Strawberries can be replaced with sliced apples or marshmallows.
Ingredients:
Fresh strawberries (or apple slices or marshmallows or a combination)
300gr chocolate
Sprinkles
Method:
Line a baking sheet with baking paper 
Place a double boiler onto the stove (glass bowl over a pot of boiling water) and melt the chocolate in the glass bowl
Once the chocolate is melted, dip the strawberries into the chocolate using the leaves to hold onto. For the apple slices and marshmallows, skewer these with ice cream sticks and then dip them into the chocolate
Place dipped items onto the baking sheet
Let the kids go wild with the sprinkles
Place the baking sheet into the fridge for 2 – 3 hours (or until set)
Store in an airtight container in the fridge
S'mores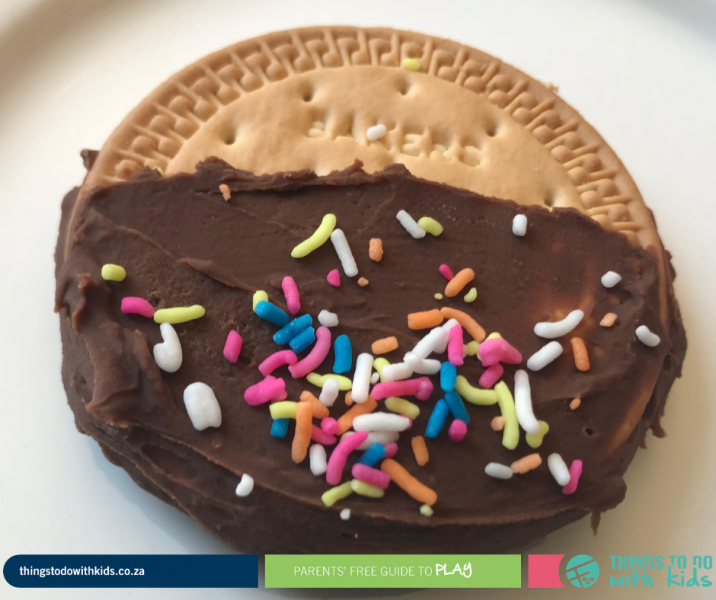 These are an ever popular and super easy treat for kids and adults alike and are based on the happy tradition of braaing marshmallows over a fire.
Ingredients: 
20 marie biscuits
5 marshmallows (cut in half to make 10)
150gr milk or dark chocolate 
Sprinkles
Method: 
Pre-heat oven to 180 C
Line a baking sheet with baking paper and place 10 of the marie biscuits, face down, onto the sheet
Place half a marshmallow onto each biscuit
Bake in the oven for 5 minutes
Remove the tray from the oven and press the other 10 marie biscuits (face up) onto the melted marshmallows, sandwiching the biscuits together
Using a double boiler, melt the chocolate
Once the biscuit sandwiches have cooled down dip each one into the chocolate (deep enough to cover half the biscuit sandwich)  and place back onto the baking sheet
Decorate with sprinkles and place the baking sheet into the fridge until the chocolate is set
Hot Air Balloons
Something from the Heart
A good idea is to make something which is traditional to your family or your heritage/culture. This not only paves the way to teach your kids (as well as all the other kids at the school) about culture and tradition, it is a great bonding opportunity. Also, these types of treats are always made with so much love, they are simply irresistible.
When Bean asked me what we should bake this week, I decided to make Pfeffernüsse, a delicious German spicy gingerbread type of biscuit, traditionally baked around Christmas time. A great South African alternative could be Crunchies.
Remember that the treats are not meant to look perfect, they must be made with love and laughter and fun.
What did you make for Bakers Day? Share it with us on our various social media channels!
xxx
Alexa