Recipe: Galaxy Swirl Meringue Pops
Galaxy Swirl Meringue Pops
Your next party will be out of this world when you serve these melt-in-the-mouth galaxy meringue pops! Pop them in a jar on the table or wrap them up and give them to your guests as party favours. Don't forget the finishing touch - lots of sparkles and glitter!
Makes 12 meringue pops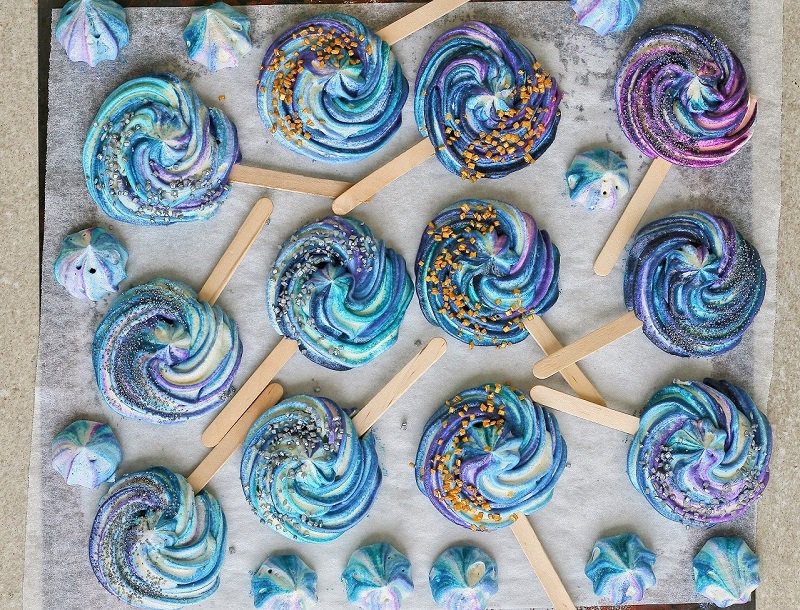 Ingredients
2 large NULAID egg whites, room temperature
100g castor sugar
small pinch of salt
2.5ml (1⁄2 tsp) vanilla extract
piping bag and star nozzle
purple, turquoise and navy gel food colouring
12 ice cream sticks
gold and/or silver sprinkles
gold and/or silver edible glitter
How to make galaxy meringue pops
Preheat your oven to 120°C and line a tray with baking paper. Whisk the egg whites until they form stiff peaks. Add the castor sugar one tablespoon at a time while beating. Beat well between each addition. Whisk in the salt and vanilla extract. Place the star nozzle in the piping bag. Place three drops of purple gel food colouring onto the back of a spoon and use it to spread the food colouring in two long streaks up opposite sides of the inside of the piping back. Repeat with the turquoise and navy food colouring so that you have alternating streaks on the inside of the bag.
Spoon the meringue into the piping bag and twist the top. Pipe 6cm rounds onto the baking paper, allowing space for the meringues to expand. Gently pop an ice cream stick into each meringue and add some gold and/or silver sprinkles. Bake the meringues for 1 hour. Leave the oven door closed, switch the oven off and leave the meringues to cool in the oven for a further hour.
Finish the meringue pops with a dusting of gold and/or silver edible glitter before serving. Store in an airtight container.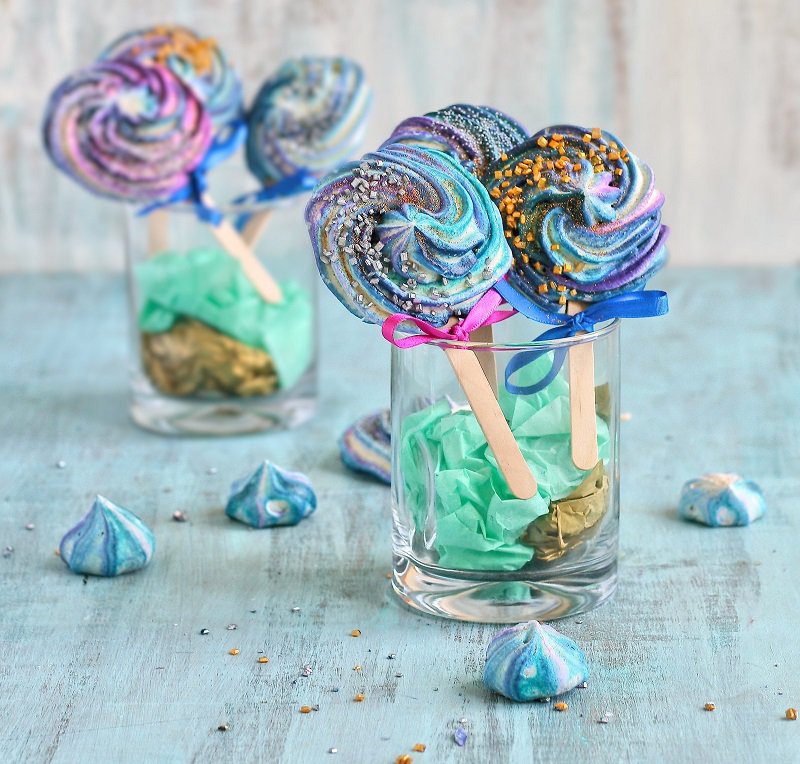 Tips:
Ice cream sticks are available at packaging stores, but if you can't find them you can use large skewers instead.
For perfect galaxy pops used a template underneath your baking paper as a size guide for piping. (I used a round cookie cutter to draw outlines on a piece of paper.) Just remember to remove the template before baking the meringues.
Use different food colourings and sprinkles like nuts, silver balls and hundreds and thousands to adapt these meringue pops for any party theme!