Indoor party inspiration: Try Build-A-Bear Workshops

Cape Town was finally treated to some much-needed rain and with the winter school holidays in full swing, we were in desperate need of some indoor entertainment for the little ones. My son's 6th birthday was coming up, so I wanted to do something fun and unique, which wouldn't break the bank. If we had been in London, it would have been a summer party, but expat life meant we were destined to start knowing winter party venues by heart. I was thrilled when Build-A-Bear invited us to try out their party experience. I knew that would be the perfect idea for us as it would, in contrast to crazy chaos, be an educational and creative experience. Furthermore, guests would also have a furry friend, the ultimate party favour, to take home with them and love forever. 
 In order to plan ahead I made use of my quick reference checklist for kid's parties:
Pick a party theme
Define your budget
Set a date
Pick a venue
Prepare the guest list
Prepare invites and send them out
Order birthday cake
Plan the party food and décor and favours
Buy a present
Purchase party food
Pick up the cake
Pick up any party décor needed
Decorate the venue
Choosing the Perfect Venue and Package
The Build-A-Bear Workshop Party packages range in value to suit any budget- from the Super Smiles package at only R179 per guest (where you get a bear to the value of R199 and a t-shirt of their choice), to the Ultimate Celebration Range valued at R499 per guest where they get a furry friend up to the value of R299 and they can select any outfit, sound or scent of their choice.  
I selected to go for the Super Smiles package as I was happy that they would still come away with a great quality toy where they get an R199 bear and t-shirt for only R179, which I thought was fantastic value.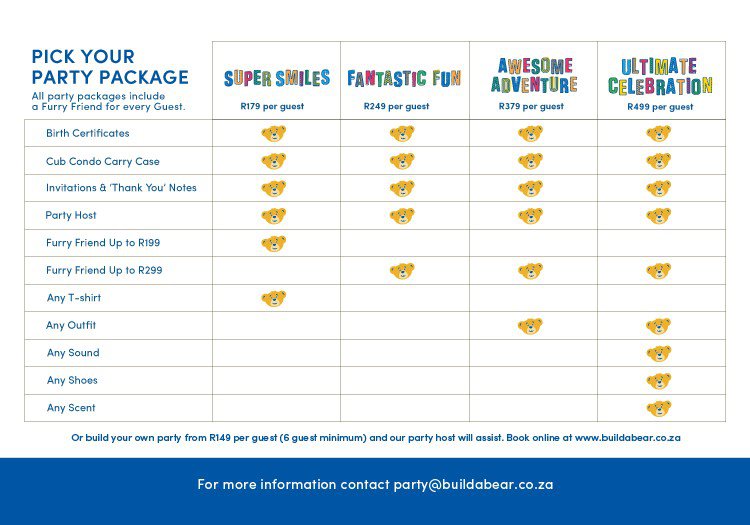 Finding and booking the perfect venue can be done via their website (which is very easy to do on this link).  Once you have selected and booked a Build-A-Bear Workshop, you are able to create fun invites on their website to send to your party guests to get everyone into the party spirit.  We chose to have the party at Tyger Valley, Durbanville as it's local to us, and we all love the mall. The venue is in the centre of the shopping centre and Build-A-Bear has branches in Cape Town, Gauteng and Kwa-Zulu Natal.
Build-A-Bear further charges no venue hire and they let you bring your own decor, catering and cake. We were good-to-go!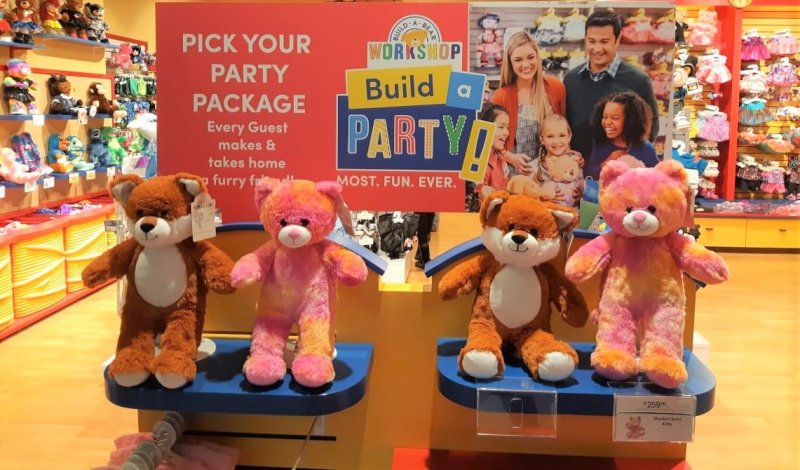 Build-A-Bear Party Time!
The day finally arrived. On route to the party my son and his friends were highly excited– the idea of creating a new furry friend which they could cuddle and show everyone really got them hyped up.  
We were greeted by our lovely Party Host who was very friendly and welcoming. She soon had the kids sitting in a circle, all bursting with anticipation! I was very impressed with how great she was with them – it's not an easy feat calming down 7 over-excited children who simply cannot wait to get started!  Once everyone had been given a name tag they were told to choose their bear from a selection of colours and an assortment of designs.  My 3-year-old daughter chose a pink bear, and my son chose a black one which he said looked like a real grizzly bear.  The kids were then told to name their bears which were written down on the bear's tags for birth certificate time.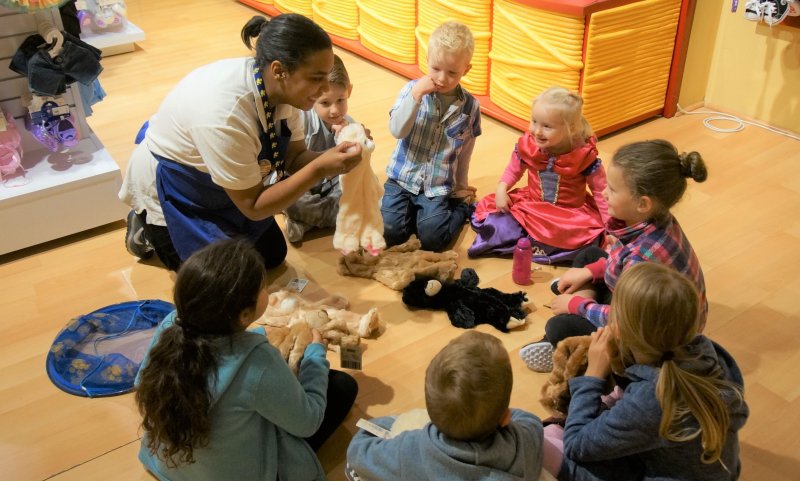 Creating a Furry Friend
I loved how the Build-A-Bear Party host got the children involved in the building process by waking the bear up from hibernation so that it could be stuffed. The kids were encouraged to throw the bears around and stretch and massage them so that they were ready to be made into a real furry friend.
They were then all seated in a circle and were kept occupied in a game of pass the bear until it was their turn.  Each child went up to the stuffing machine and helped create their own bear using a foot pedal which stuffed the bear with filling.  Once their bear was full, they were given a heart which they were told to rub against their own heart so that the bear will always feel their love.  It was so uplifting to watch all the kids kissing the hearts and knowing that they will always have a special bond with the bear.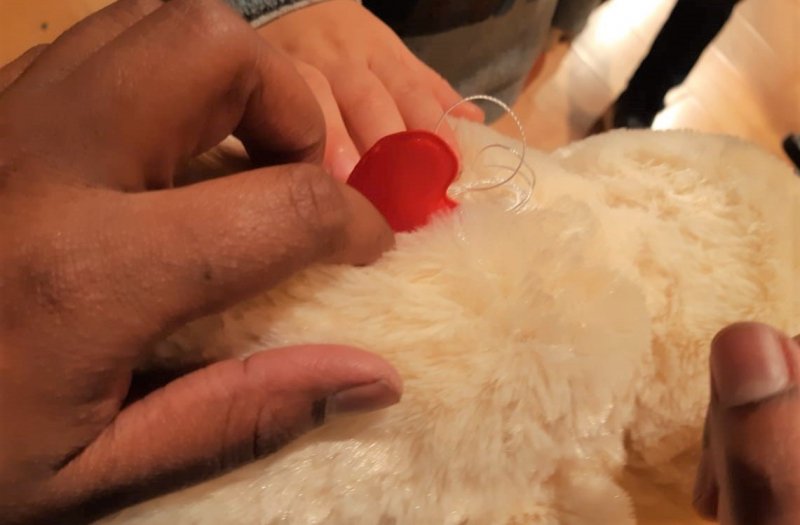 Once everyone's bear was filled and had a heart they gave their bear a scrub down so that they were clean and ready to choose a t-shirt to keep their bear warm.  There was a fantastic selection of t-shirts on offer and all the kids easily found something they were happy with.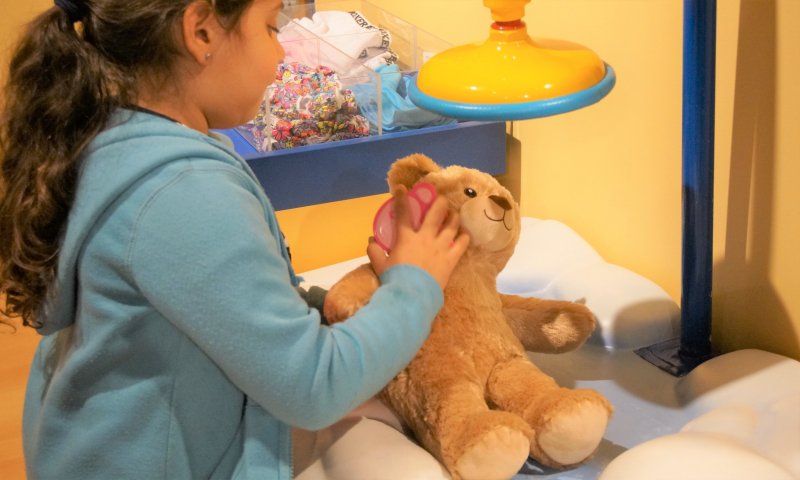 Time to Eat and Play
As everyone was then getting hungry they were asked to sit down for snacks and drinks whilst the bears birth certificates were drawn up to take home with them.  
After singing happy birthday to the birthday boy and his bear, everyone was encouraged to play with their new furry friend and they all enjoyed the fun party entertainment which included games such as Simon says (Bearemy says), stuck in the mud as well as pass the bear.
Finally, before heading home each child was given a Cub Condo for their bear to be carried in which could be coloured in at home and would keep their new furry friend clean and warm.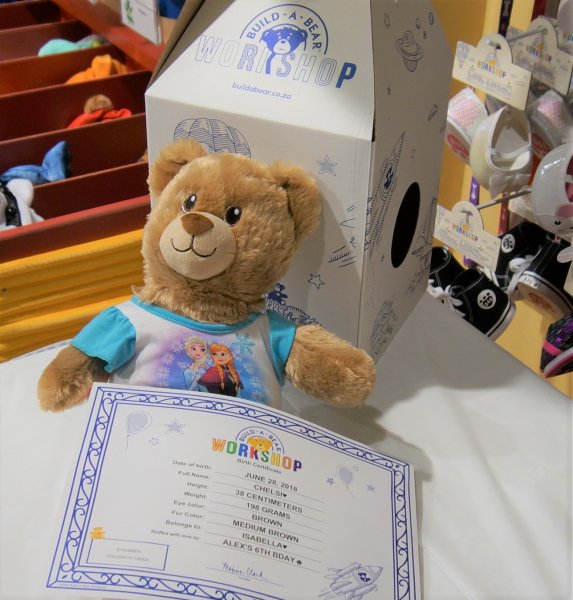 Thanks for the Party!
The kids had a fabulous time and it was truly heart-warming to see all the kids hugging and playing with the furry friend that they had created themselves.  I would recommend this party as something unique, fun and entertaining and my children haven't stopped playing with their bears since the party.  It may even be a great group playdate idea for these cold winter days!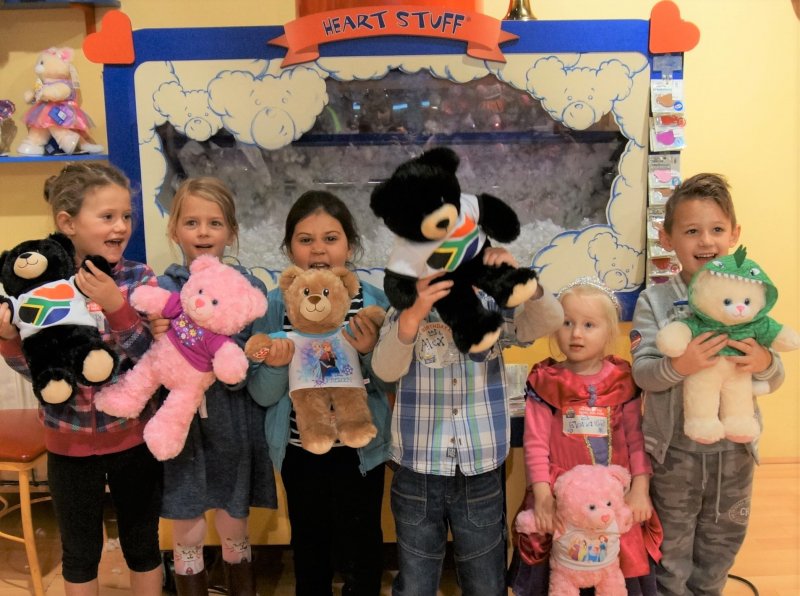 Things to Note
All parties are for a minimum of 6 guests and the cost includes birth certificates, Cub Condo, invitations and thank you notes, as well as a party host and there are no venue costs! 
Phone ahead to ensure if your venue offers a party table and arrive a few minutes early to set-up your table.