This Is How We Roll Interview With: Cindi Page

Exciting, this is our first Interview with Cindi Page
Finding out how successful working parents spend quality time together and how they juggle it all. Read on to see our interview with Cindi Page and find out a little more about her and her family.
Cindi is a savvy business owner of a digital marketing and training company for small businesses. She is also a very talented author of the book: A piece of my heart. Her second book, 'Full Circle' has just been completed, so keep an eye open on Amazon. She is also a wonderful mom, her two energetic boys keeping her busy and on her toes.

Let's start the Interview by telling us more about you.

Name and where are you from? 
My name is Cindi Page and I live in the beautiful City of Cape Town
Describe your day under the theme "a day in the life of Cindi Page
Working from home with three jobs to juggle and being a mom with all the day to day chores.
What is your favorite childhood holiday memory? 
I love to go to the beach and the museum.
Have you ever revisited the museum as an adult? 
Yes, many times
Family life
Tell us about your family 
My mom, stepdad, grandmother and 2 kids, both energetic boys.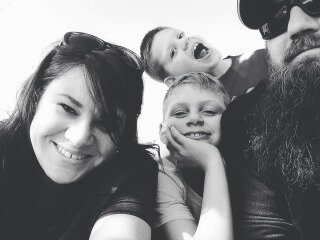 What is your favourite free local family activity?
 I enjoy visiting the local parks or markets
If you would like to find out more, there are plenty of markets the whole family can enjoy.
Where is your favourite local family-friendly hangout? 
My favourite places to go with the family are:
Blasters, a family restaurant in Brackenfell, Cape Town
Willowbrige has many retail shops and areas with jungle gyms the kids can enjoy.
Ke-Monate at Signal Gun Wines or
Any of the beautiful wine farms.
Have a look at what kids activities you can find at some of the Stellenbosch Wine Farms.
Do you read to your kids? If so, what? 
Yes. Harry Potter and we get audiobooks from audible to listen to.

Help a parent out
If you could share one TIP you use to make free time with family fun- what will it be? 
We enjoy outdoor activities and opportunities to chat and learn. For instance, going to, World of Birds or exploring a new town. These activities are fun but make sure you always pack snacks, water, and wipes. I always pack an activity (a ball, lego, books) in case it's a long drive or a place is not so child-friendly.
Why not go on a sightseeing adventure in Cape Town with the kids.
Where can our reader's find you online? 
You can find me at:
2. www.cindipage.com
3. www.ongers.com
What legacy would you like to leave your kids?
To be lifelong learners and use traveling the world as their textbook. AND: be present in the moment.