How to Teach your Kids to Love Swimming – in a Safe and Happy Environment
When my son was about 6 months old, I made the mistake of taking him to swimming lessons. He hated it. I was surprised: he loved splashing in the water with me (whether in a pool or in the bath) and I had thus expected him to love it. The lessons, however, were based around a more serious theme, drowning, and the focus was, therefore, to teach the kids to float and not drown, instead of having fun in the pool. This had an adverse effect on my little Bean and soon he started dreading time in the water, a sense of fear having replaced his previous joy. I, of course, stopped the lessons and instead decided to focus on teaching water safety and water fun at home (we have a pool, so it was very necessary).
Step 1: Swimming & Finding the Perfect Swim Gear
Before I could do that however, I needed the perfect outfit of course (yes, I know my Little is a boy, but I am a typical woman who loves pretty clothes and pretty patterns – and he should look his absolute best all the time, right?) and being a South African mom (wannabe-mompreneur), I wanted to support a fellow South African mompreneur. Tanya (the brain & doer-of-all-things-wonderful behind our amazing blog and guide) introduced me to just jump!, a mom-owned swimwear company based in Cape Town. Paula, owner of just jump! didn't hesitate to send us a sample swim suit and it soon became evident why she prides herself on her high-quality swimwear, sun and rain hats, towelling hoodies as well as raincoats: they are created with locally printed, UV50+ and chlorine resistant lycra and they are simply put, fabulous.
The just jump! prints are totally unique which is, of course, amazing, and I have received many compliments on how cute my son looks in his swim wear. The quality is also, as was promised by Paula, great. The colours do not fade, I rest assured that Beanie Bean is protected from our harsh South African sun and, most importantly, he is super comfortable. An added bonus for my nappy-wearing son is that just jump! supply swimming nappies, lined with towelling, to ensure that the pool remains hygienic and clean at all times.
Just jump! gear can be bought directly online here (hooray for shopping convenience), where they offer personalised service to ensure that you buy the correct size, or it can be ordered via personalised email correspondence (paula@justjump.co.za). Remember to use the voucher code TTDWK to receive 10% off your purchase!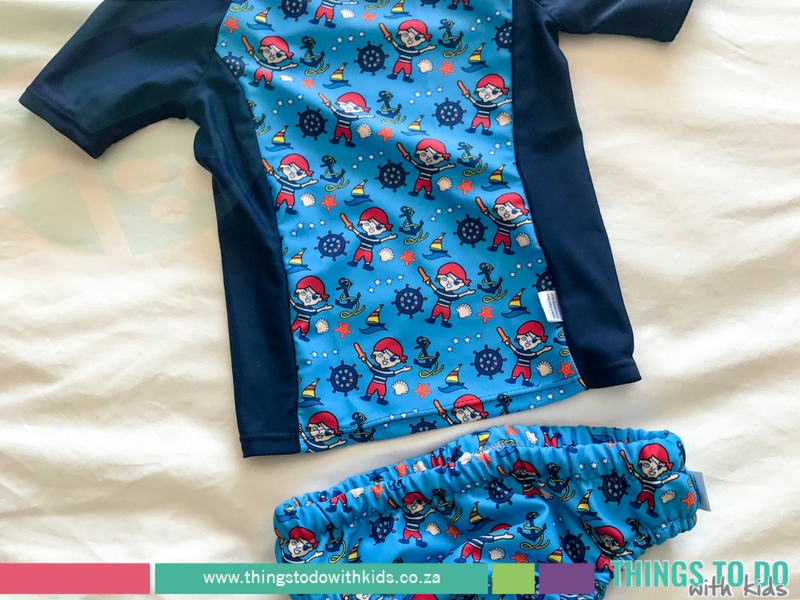 Bean's latest just jump! swim suit - simply adorable! 
Step 2: Building your Baby's Water Confidence in 4 Easy Bath Time Routines
After we stopped the swimming lessons, I first needed to focus on teaching my son that water play could be fun; to curb the fear of water. Tanya studied water safety and swimming lessons for kids as part of her studies and after listening to her advice, I started with daily (or nightly in our case) water-exercises in the bath.  Here they are:
Using Bath Toys
Nothing gets a child's attention and laughter ringing, quite like a cool new toy and while digging through his 'for-a-rainy-day' toy chest, I came across a swimming turtle which my step mom had gifted to us. It was perfect as we could wind it up and it actually swims in the water while singing a tune. Bean, needless to say, loved it and soon wanted to imitate 'Crumpet', the turtle, which allowed us to start teaching him how to float.
Crumpet, the turtle
Teach your Baby how to Float in the Bath
Teaching Bean how to float was one of the cornerstones of the swimming lessons we went to and one of the things which caused endless crying and screaming. It was, and is, however, the basis of swimming and so we started by floating in the bath. I would climb into the bath with him, let him play with his turtle and then tell him that we are going to swim like 'Crumpet' now. I would then turn him onto his back, all the while sitting behind him, and hold him under his back, then under his arms and, as he grew more confident, I would cradle only his head in my cupped hands, allowing the rest of his body to float.
Blowing Bubbles in Water
One of the things Tanya taught me was that babies need to learn to exhale under water to prevent them from trying to inhale, and you do this by teaching them to blow bubbles. Initially, I took a straw and taught him to blow bubbles into a bucket of water or the bath through this straw (which he loved - kids and bubbles are a magical combination) and we later progressed to blowing directly onto the water surface and then under the water surface (without submerging the entire head).
Get your Baby's Face Wet
One of the major fears Bean had (and to a degree still has) was getting his face wet. He did not like water being splashed onto his face or poured over his face and he definitely did not like having his head submerged (this generally ended in quite a traumatic experience for both mom and baby). So, although he did not like it, I would purposefully and quickly pour a bit of water over his face while rinsing his hair in the bath and he simply got used to it. Later, I included pouring water over his face from a children's watering can into his play-time bath routine and I have recently started putting him in the shower so he can shower like 'daddy' (his dad is his idol).
Step 3: Have Fun
To be honest, at the age of 2, my Bean is still not a big fan of being completely submerged in water or having water on his face, but he tolerates it and it is something I have simply learned will take time and patience. 
He does however really love spending time with me in the pool, or simply playing with water in a bucket. Playing with water is, in fact, probably his favourite past time and it keeps him busy for hours (well, toddler hours, which are more like adult minutes, but you understand what I am trying to say), and he jumps up and down excitedly when I get his just jump! swimwear out of the cupboard. Time spent in the water has become fun again and our house and garden are always filled with the sound of our child's unmistakable and heart-warming belly-laugh when it's swim time.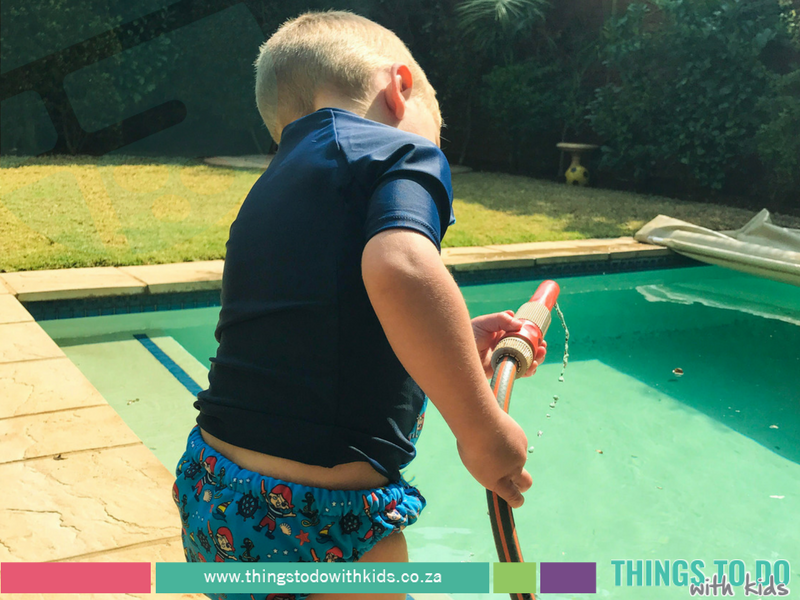 Although our pool is still a bit cold, Bean insists on wearing his swim gear and splashing around - pictured here filling up our pool.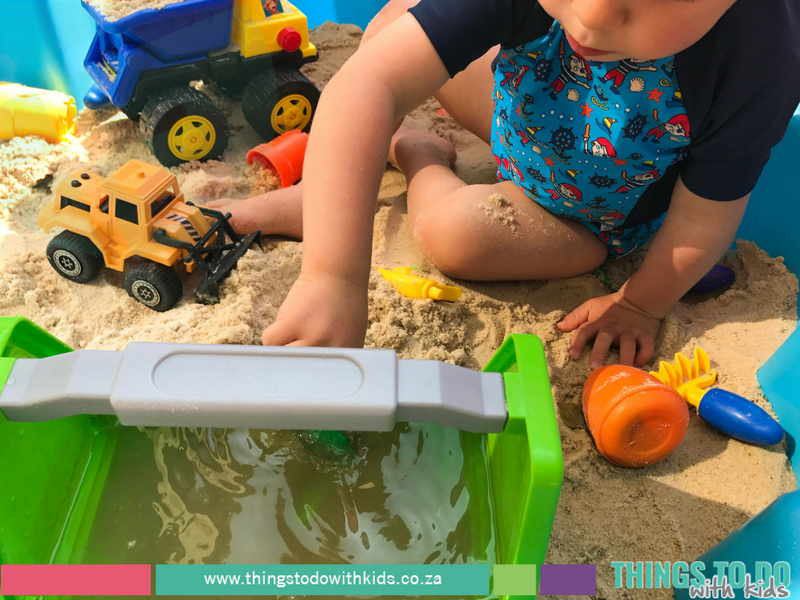 The just jump! outfit even has to be worn in the sandpit and as usual, there must be water present.
Happy swimming all!
xxx 
Alexa