Handmade slime that will freak your friends out– from Little One
This article originally appeared in our proudly South African print and online family magazine "Things to do With Kids- a Parents' guide to PLAY"
Little One was founded in 2011 when our son was one year old. With my pre-school qualification and experience, I worked out a learning programme to use at home with my son, and then decided to share it with other mommies. The products I designed were mainly focused on the Afrikaans-speaking market, due to the shortage of educational material in Afrikaans.
It did not take long to become popular and I found myself translating my products to English as well, while continuing to design and develop more educational products. It has since grown into an online store with more than 400 digital products for babies to five-year olds.
Little One products include:
Activities for babies
Learning programme for 1 to 3-year olds
Activity workbooks for 3 to 5-year olds
Wall charts & flashcards (Alphabet, Numbers, Colours, Shapes, Songs, Rhymes, Themes, etc.)
Weather chart
Props: Songs, Rhymes, Stories
Reward charts / Chore charts
Playdough / Pom-pom activity mats
Tooth fairy letter sets
Tiana Burger (owner and manager)
Email address: tiana@little1.co.za
Online store: store.little1.co.za
Facebook: www.facebook.com/little1.co.za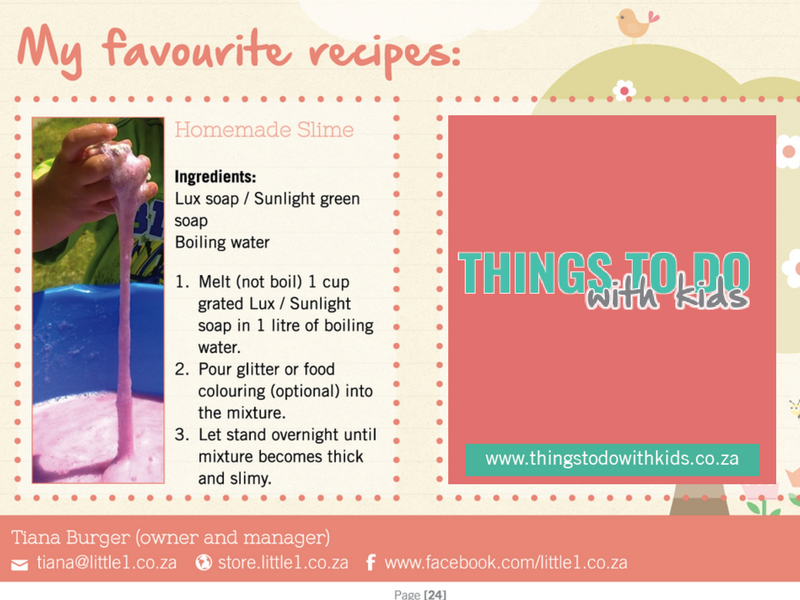 My favourite recipes:
Homemade slime
Lux soap / Sunlight green soap
boiling water
1. Melt (not boil) 1 cup grated Lux / Sunlight soap in 1 liter of boiling water.
2. Pour glitter or food colouring (optional) into the mixture.
3. Let stand overnight until mixture becomes thick and slimy. 
If you like sensory play - also see our therapeutic play dough recipe with lavender and other essential oils.