The benefits of choosing active activities as weekend entertainment
Weekends are meant for fun, weekends are for family time together and, most importantly, weekends offer a time when you can build onto your child's development on a spiritual, physical and emotional level. It is also a time where you, as a parent, can take care of yourself and revive those weary old bones in nature, and to get a break from our technology-driven always-on screen time obsessed lifestyle.
We have all heard that the way we speak to our children becomes their inner voice, but do you realise that what we teach them to love will live in their hearts forever? Therefore, I am a big advocate of edutainment, active activities and time spent in nature over weekends.
I recently did a blog about the 10 habits happy people have in common, and by going on a family friendly weekend adventure you can tick off four of these boxes:
·         Time in Nature
·         Time together – socialising + building uplifting relationships
·         Movement + being active
·         Screen free time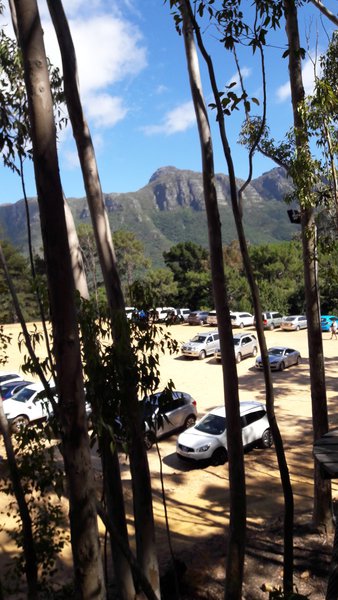 Our active outdoor day out at Acrobranch Cape Town (There are now 8 Acrobranch parks in South Africa)
They are Acrobranch:
We were recently invited to visit Acrobranch Play Park and Party Venue, Constantia, Cape Town. I had no idea what to expect and even though I used to do a little rock climbing and abseiling as a student, this hobby was replaced by family activities when I got married and had kids. But now that they are 3 and 5, we, as a family, can pick up where I left off, dust off the old gear and get hooked on an active lifestyle.
During round one of our adventure I watched my daughter like a hawk, helicopter parenting galore- "Red clip, Red clip, Step, Careful…. *Spongebob, Red clip. Red clip. Keep your hands out of the way." I instructed. This was followed by a "You can do it, you can do it!", "Ah you're so brave!" and "Well done!". She made it through the yellow course! I made it through the yellow course! (Can you hear the relief?)
I looked at her and asked if she wanted to do it again. A big "YES!", resounded. So by round two, I decided to step back a few meters and let her try it on her own. It took some serious discipline from my side to "let go". And then, 'wow', she totally grasped the concept: when she felt a little unsure she watched some of the more seasoned adventurers and then went ahead, without asking for my help. I could literally see the confidence grow in my little one and the joy of independence and movement radiated from her whole being as she mastered these skills.
By round three I could leave her, knowing she understood what to do and that there were guides looking out for her, as I embarked on my own Blue Course adventure.
Development benefits of going on a treetop adventure:
Being a Biokineticist, I couldn't help analysing the movements and thinking what enormous benefits they have. So, if you are looking for an active activity to invest in your child's development - here are some of the benefits of going on an Acrobranch adventure: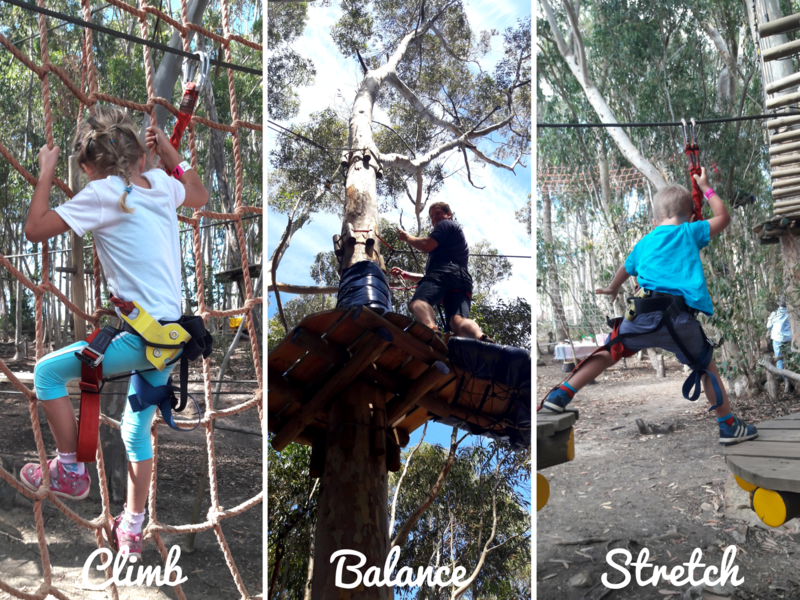 Planning: every movement had some level of planning- kids had to decide which way they would go around a tree, where they would place their next clip and how they would move from one obstacle to the next, to name but a few.
Proprioception: with balancing on floating ladders, walking on ropes and climbing nets, parents and children get challenged to practise their proprioception. Proprioception is great for balance and preventing injuries while playing sport and in everyday life. It is also extremely important for adults to practise this to prevent falling as we age.
Body in space + midline crossing: movement in our normal daily activities is usually one directional, forwards. With Acrobranch obstacle courses children are challenged with lateral movement, rotation, reversing and getting a general idea of where their bodies are in space and what to do in order to move in the intended direction.
Core strength and stability: we often think of core strength as abdominal strength. What people miss is that every movement has a core from where it originates. Acrobranch obstacle courses offer functional training, meaning not only does your abdominal area and back strengthen, but you also get to condition the core of each movement e.g. shoulder stability and hip stability.
Strength: every movement these kids execute will condition either power or muscle endurance. Again, full body conditioning. I must admit I had a few aches and pains myself the next day- all signs of a good overall workout.
Flexibility and reach are improved as children challenge themselves to move between obstacles.
I love leaving a weekend activity knowing that my kids had fun, but what I appreciated even more about this weekend adventure was that both my husband and I could share in the thrill of riding a zipline, climbing a little and enjoying the spectacular scenery this outdoor playpark had to offer.
*Spongebob is the creative name given by Acrobranch staff during the educational brief for the pulley used to zipline.